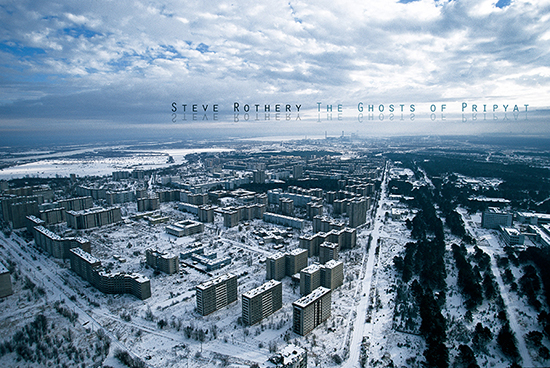 I'd like to thank everyone on behalf of my friends Matt and Rachel Elworthy for the amazing support you've shown for Matt's brain tumour treatment fund. Not only the people who bought the Carol of the Bells download but the numerous donations and messages on the just giving site (http://www.justgiving.com/TheMattElworthyFund). It really means a lot to all of us.
2014 is going to be another hectic year for the band. We'll be back in the studio in January rehearsing for the Cruise to the Edge before Pete's off touring with Transatlantic in February, while I spend a few days recording the backing tracks for my solo album "The Ghosts of Pripyat" at the Racket Club. I've been totally amazed at the response to the Kickstarter campaign, which has more than doubled the target I'd set. It's now into the last two weeks of the campaign and I've just announced a special edition with a bonus DVD. Anyone who orders the special edition on Kickstarter will get their name in the booklet.
http://www.kickstarter.com/projects/2090204348/steve-rothery-the-ghosts-of-pripyat
For anyone wanting to order the special edition and pay via PayPal (it's not supported by Kickstarter) please email info@steverothery.com for instructions. If you order within the next 14 days you'll still be eligible to have your name in the special edition booklet.
I'm off to play a few concerts in Italy in February where I'll be playing the final arrangements of the tracks for the first time
Friday 21 February 2014 Crossroads, Rome, Italy
TICKETS: www.pointticket.it Support: Ranestrane
Saturday 22 February 2014 Forum, Veruno, Italy
TICKETS: www.ciaotickets.com Support: Ranestrane
Sunday 23 February 2014 Cinema Teatro VIRTUS, Verona, Italy
TICKETS: email: ilgiardino.musicclub@gmail.com Support: Ranestrane
Other Shows:
Sunday 9th March 2014 Barcelona Guitar Festival
http://www.musichall.es/
Saturday 4th October 2014 John Dee, Oslo, Norway
TICKETS: www.billettservice.no
In the spirit of the holiday season, I created a discount code to get the Steve Rothery Band - Live In Plovdiv download for 50p (around €0.6 or $0.71) which was originally valid until 31st December. It was pointed out to me that some people don't actually use their computer during the holiday period so I've now extended the offer until January 31st. Just go to steverothery.com, click buy now then enter merryxmas in the discount code box then click apply. Hope you enjoy it.
Happy New Year!
Best wishes,
Steve,/strong>