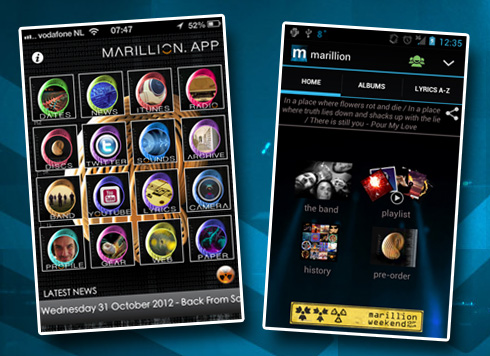 We are pleased to announce that the official Marillion iPhone app has finally been approved by Apple and is now available on the App Store. It currently works on the iPhone 4 or 5 with iOS 5.0 or higher.
https://itunes.apple.com/gb/app/marillion-official-app/id560987158?mt=8
It sends all the latest news direct to your phone but also has a load of other features.
There's a tour date page, with venue details - it will also give you directions to the venue and put a reminder of the gig in your iPhone calendar.
It includes a discography with details of over 100 Marillion & related releases, including all the studio albums, a host of live albums and a large selection of Solo, Racket and Web UK releases. There's also a lyric section for pretty much every track the band have recorded and a setlist archive with details of every gig the band have played since 2001.
Please note anyone caught using these features during the PZ pub quiz next March will be disqualified ;-)
It has an exclusive 8 track version of the Crash Course CD, band gear lists, updated band biographies and even a band family tree.
There are also over 40 exclusive iPhone wallpapers.
There's a camera that places the new band logo on any photos you take.
All of these features are built into the app so you won't need a 3g/wireless connection to use them - perfect for when you want to look something up at a gig but can't get a signal !
There's a twitter client which lets you read and reply to the band's Twitter messages, access to the band's official YouTube channel, and links to the MOLF and the official website.
An update has just been submitted to Apple which will introduce graphical improvements, more efficient news handling, push notifications, and a Marillion Radio Station with almost 1000 tracks from all eras of the band, including rare and solo material, streamed 24 hours per day. This is also airplay compatible.
Further updates will include a smartphone optimised MOLF, an interactive chart, photo sharing, increased social networking integration and much more.
In addition, for those of you using Android, an official Marillion App is also available at :
https://play.google.com/store/apps/details?id=nl.ekholabs.marillionapp